Celebrating Panda Express and Lunar New Year
Lunar New Year is one of the world's biggest festivals centered around food, family and togetherness.
Since 2007, Panda Express has been making a substantial impact at Children's Miracle Network Hospitals by raising millions of dollars throughout the year by asking guests to round-up at the register. Funds donated stay local and benefit patients and families in our very own community.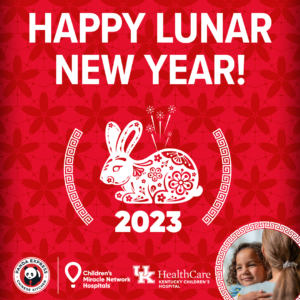 Today & every day, we want to join alongside the associates and guests celebrating this Lunar New Year and take a moment to recognize the immense impact made on Children's Miracle Network Hospitals in 2022.
We are grateful for the ongoing partnership with Panda and the many ways they help change kids' health and change the future across the country.
What makes the Lunar New Year so exciting is the 12 Chinese zodiac animals that represent years in China, but also are believed to influence people's personalities, career, compatibility, marriage, and fortune.
This year, the Rabbit is the representing animal, and it happens to be the fourth zodiac animal sign in the 12-year lunar cycle. In Chinese element theory, each zodiac sign is associated with one of the five elements: Gold (Metal), Wood, Water, Fire, and Earth which comes once in a 60-year cycle. For example, 2023 is the year of the Water Rabbit. The last Water Rabbit year was 1963.
**Fun Fact**
Chinese food is the second most popular food delivery item in the United States. There are more Chinese restaurants in America than all the McDonald's, Pizza Huts, Wendy's, Taco Bells, and KFCs combined. One of the most popular, and one that helped bring Chinese food to the masses, is Panda Express.
And as always, thank you from the bottom of our hearts to all of our friends at Panda Express for their incredible amount of love and support shown to our patients and staff at Kentucky Children's Hospital
#PandaCares #PandaLNY